Welcome to SafetySlides.com
Furniture sliders, skates, glides, moving slides, skids, hand trucks, dollies... whatever you're looking for, Safety Slides are the moving tools for you!
The Safety Slide is the latest innovation in furniture moving slides. Over the past 20 years, office furniture and carpet installations have evolved, creating the need to provide a heavy-duty slide with more slidability and load bearing capability for use in moving heavy furniture and equipment.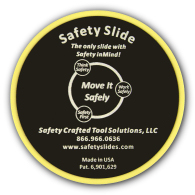 Heavy Duty Industrial
Moving Slides
The Safety Slide is a handy, multi-functional tool that makes it easy and safe to move heavy furniture from one location to another, often by just one person. By using Safety Slides with your carpet or furniture installations, you create less downtime and savings for both you and your clients! The Safety Slide is a heavy-duty industrial strength slide capable of moving heavy furniture, modular panel walls, loaded file cabinets, heavy machinery, safes, and fully stocked shelving, easily and safely.
Safety Slides are 6" in diameter and made of a specially engineered thermoplastic copolymer for a slicker finish and better sliding ability. The 6" size disk makes it easier to move heavy furniture with a larger surface for movability. The unique design of the convex bottom creates a strong, durable slide with a lower coefficient of friction. Black polyester fabric over a thick, dense rubber makes the pad long-lasting and tear resistant, allowing for a deep compression to hold heavy furniture securely in place while moving.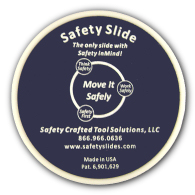 New Natural White
Moving Slides
The 6" Natural Colored Safety Slide!
In response to numerous customers requests, our 6" natural white colored slide is now available. We have also added navy blue, burgundy and red polyester fabrics to our inventory. For custom printing orders, you can now order the yellow or natural white slides with black, navy blue, burgundy, or red fabric on the rubber pad. All printing in white ink only.